welcome to
Jescott Montessori PreSchool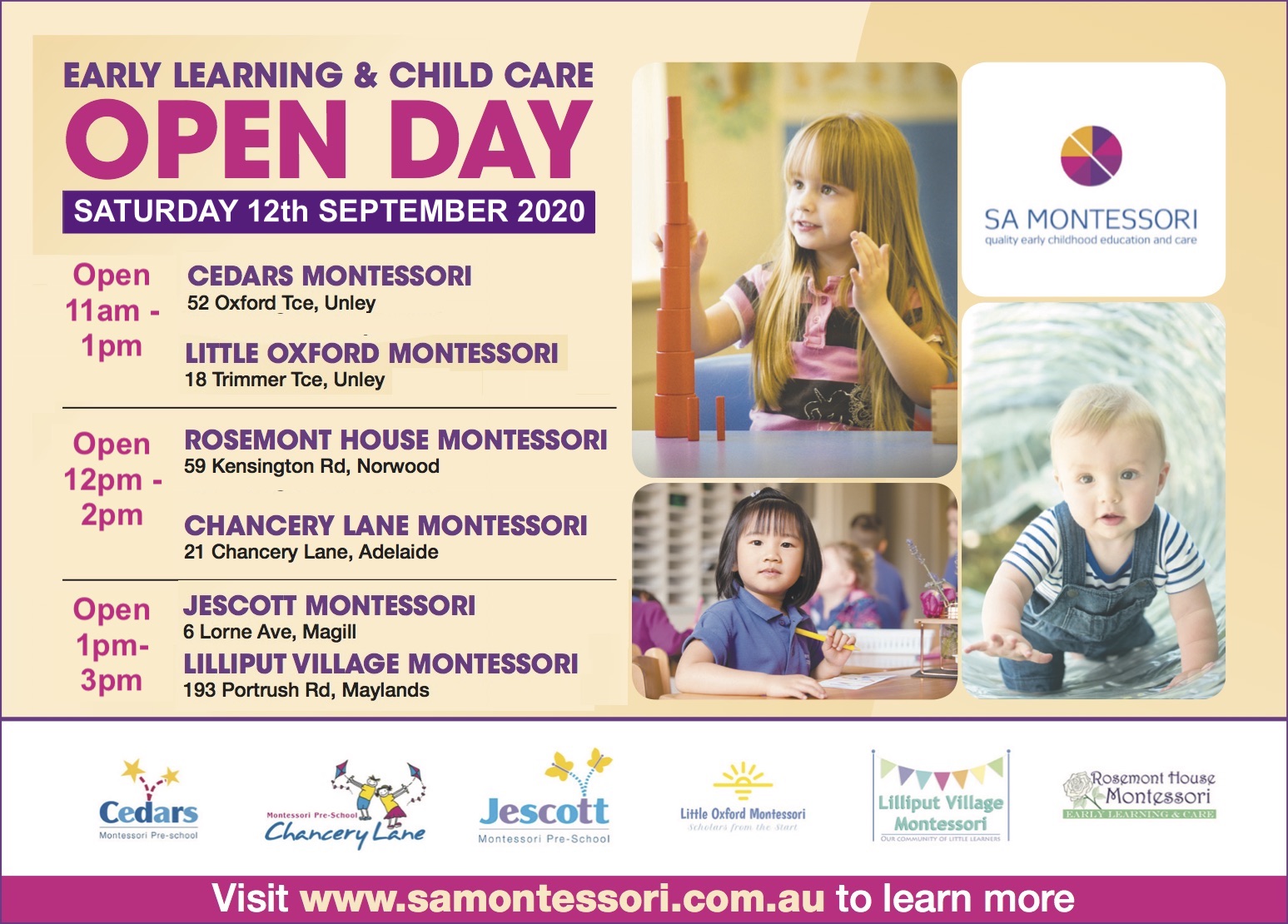 We are delighted to announce our SA Montessori Open Day on Saturday 12th September, 2020. 
Click here to learn about our centres or contact us. Follow us on Facebook for updates.

We will have Covid-safe protocols in place for our Open Day to protect the health and safety of our community. One of our precautions is to ask families to register their intent to attend. This helps us predict the number of visitors so that we can maintain our density requirements. It also provides us with an avenue to contact you directly if any changes are made to the event due to public health restrictions. 
Please use the links below to register your attendance:
Cedars (Unley)  Chancery Lane (CBD)  Jescott (Magill)
Lilliput Village (Maylands)   Little Oxford (Unley) Rosemont House (Norwood)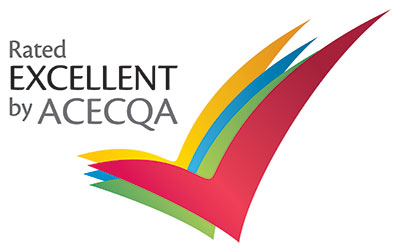 Every question and comment is important to us, no matter how simple or complex, so if you can't find the answer you're looking for then please don't hesitate in contacting us.
Is there a Waiting List
Jescott is a much-loved centre and so we are usually full with a robust Waiting List of families who are waiting to join us. We know it can be disappointing to discover that you may not be able to join us immediately, but we are told that we are worth the wait!
Download our 
Waiting List Form.

We have a $75 non-refundable Waiting List Fee. In some circumstances this is reduced to a $25 fee – please view our Waiting List Form for further details.
Unfortunately we are never able to guarantee families an eventual position but we run our Waiting List ethically and conscientiously. 
To learn more please download our Enrolment Process information.
What are the Tuition Fees?
Our fees for 2021 are as follows:
NIDO PARENT & CHILD PROGRAM: $20 per session 
Payable for full term in advance
PRESCHOOL:
$100 per day for children aged between 3-5  
$108 per day for children aged between 2-3
Our Preschool fees are structured according to age group to reflect the differing costs associated with these ages, including (but not limited to) the increased number of educators required to satisfy the legal educator-to-child ratios for younger children.
Payable weekly via 'Debitsuccess'.
Preschool fees are eligible for Child Care Subsidy (CCS).
To learn more download our Fee Information
What is Jescott's Quality Rating?
We are proud to announce that Jescott Montessori Preschool has been awarded the 'Excellent' Rating by ACECQA. 
​Jescott was eligible to apply for the Excellent rating after being assessed as Exceeding the National Quality Standard in all seven Quality Areas.
Can I Visit Jescott?
Absolutely! 
We feel that visiting in person is the best way for you to get to know us. Simply complete the contact form at the bottom of this page – or email jescott@samontessori.com.au – to make an appointment for a tour.
Where is Jescott located?
We are located at 6 Lorne Avenue, a quiet side street in Magill with easy access to Murray Park, the UniSA Magill Campus and more. Our niehgbours, the Magill RSL, kindly allow our families access to their private car park.
What Qualifications do the teachers have?
We are proud to employ highly qualified and skilled educators, but the most important quality for a Jescott team member is a big heart! Scroll down to learn more about the amazing individuals who form our teaching team.
Does Jescott provide food?
The centre does not provide meals but food is incorporated as a learning experience in the children's kitchen. Children prepare and taste fruit, vegetables or other nutritious snacks. When it comes to meals it is our experience that children benefit when food is brought from home. This allows the child to feel connected to home during the day and ensures that meals will cater to individual tastes and cultural preference of the family. Download our Nutrition Policy to learn more. 
Does my child need to be Immunised?
Yes, to fulfil our obligations to provide a safe and healthy environment for employees, children, families and visitors we do require evidence of adherence to the nationally recommended vaccination schedule as a prerequisite for enrolment and as a condition of continuing attendance. Please download our Immunisation Policy for more information.
Is there a Uniform?
Jescott Montessori Pre-school is not connected to a specific school and as such, we do not require children to wear a school uniform. We do have an optional Jescott T-Shirt that can be purchased if desired. We recommend that parents carefully consider the clothing their child wears each day to ensure it is appropriate for the experiences that they will encounter at the centre.
Can my child Nap at Jescott?
We endeavor to meet the individual needs of each child so we do not have any blanket rules about naps and we do not enforce group 'sleep times'.  Children will be allowed to rest or sleep as desired, however, it is anticipated that children of pre-school age will not require a regular sleep during the session. In our experience very few of the children require a nap during our relatively short hours of operation, particularly because the majority of our children attend only during the 'school day' from 9am – 3pm. We do plan the routines of our day to incorporate periods of restful relaxation to ensure that each child's well-being is supported.
What is the Orientation Process?
If you secure a placement at Jescott you will receive a detailed New Enrolment Pack, including a Parent Handbook, which contains comprehensive information to help you prepare for your Montessori journey. We advise you to read these materials thoroughly. You will also have the chance to speak with our Administrative Coordinator, Mel Koerber, to ask any questions you have and to arrange an Orientation visit.
Your Enrolment Pack will also include an Orientation DVD. This provides a video tour of our centre and can be a great way for your child to become familiar with our environment, and educators, before his or her first day.
Is it normal for me to feel nervous?
Entrusting your child into somebody else's care is a big step. It can feel particularly momentous if this is the first time that your child will be separating from you. We don't underestimate the emotion involved – for your child and for you as a parent – and we are here to support you both. 
We understand each journey is unique so we will work with you to create the perfect plan to make this transition as secure, comfortable and happy as possible. If you are not ready for your child to attend full days immediately you are welcome to arrange an early collection time so that your child can gradually transition into the routines of our Preschool day.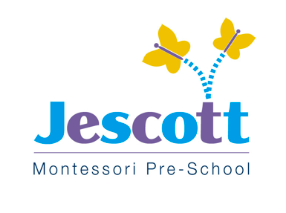 Our Story
Jescott Montessori Pre-school enjoys a long-standing reputation for high-quality education and care. This is achieved through the passion and dedication of our skilled educators under the inspiring guidance of our owner, Barbara Langford. Barbara became a Montessori teacher after observing the many ways that a Montessori environment had benefited her own son. Barbara began the pre-school in 1989 and since that time Jescott has enjoyed consistent success by providing a high standard of teaching and care. When Barbara Langford began Jescott Montessori Pre-school in 1989, her daughter Jessica was one of the first students. Jessica is now a Montessori teacher and is the Director of Jescott Montessori Preschool. Mother and daughter take great pride in working together as colleagues.
Jescott Montessori offers a beautiful home-like environment with an interesting and adventurous garden. Jescott provides small class sizes with teachers who are highly motivated and exceptionally caring. Jescott Montessori Pre-school is proud of its long-standing reputation as a much-loved community where children, parents and families feel a deep sense of belonging.
Nido' is the Italian word for 'nest' and Maria Montessori used this reference to describe the period where the young child needs a gentle, nurturing and protective environment in which to prepare for their growing independence. The Nido group is held in our aptly named 'Treehouse' room. The Nido group is for children as young as 12 months, who attend with a parent, to enjoy the activities and learning experiences appropriate for this stage of development. Parents also begin a learning journey as they begin to appreciate the Montessori approach. Our Nido Coordinator guides families toward an understanding of their child's developmental needs and milestones. The Nido is designed to assist children to become independent and once the child is showing developmental readiness, the Coordinator will assist the parent to initiate the separation process in preparation for the next step into the pre-school. 
Jescott's Nido Playgroup operates on Wednesday mornings from 9.30am to 10.30am. Nido fees are currently $200 per 10 week term. 
Bookings are for a 10-week period and full fees must be paid in advance, prior to each term.  Child Care Subsidy (CCS) cannot be claimed for this fee.
The Montessori Pre-school curriculum is a three-year program that prepares a child with all the necessary skills to confidently enter Primary School at age five or six. It is a requirement that pre-school children must attend a minimum of two full days a week*. We recommend consecutive days for optimum continuity.
During the three-year Pre-school Program children experience enhanced learning through the vast array of specialised Montessori materials which are presented at various levels of difficulty to build upon each child's existing level of knowledge and achievement. Jescott pre-school provides excellent academic and social preparation that will assist children throughout their life. Children become self-motivated and confident students. Attendance at a government Kindergarten or other Early Learning Centre (ELC) is not required as children receive a holistic and comprehensive foundation from Jescott. In our experience children flourish more effectively when provided with the consistency of attending Jescott without the distraction of an alternative environment.
Priority of placement will be given to children who intend to complete their full three-year learning program at Jescott before graduating to Primary School.
​
Learn more about how our Montessori Preschool Program harmonises with the Early Years Learning Framework.
Our Montessori 'Work Cycle' begins at 9am each morning so we encourage families to arrive before this time. At the end of each day we hold a group 'Music Time' which finishes with a 'Goodbye Time' at 3.00pm. The hours between 9.00am and 3.00pm therefore mark our formal 'school day' and we strongly encourage parents to ensure their children are present for this period.
Each child's enrolment covers the full day period from 8.00am to 4.00pm so families are welcome to arrive between 8.00 and 9.00am and to collect their child between 3.00 to 4.00pm.
Jescott Montessori is literally a 'home away from home', as our classroom is within a residential cottage that has been lovingly repurposed for our Montessori community. This creates a cosy, comforting atmosphere that is perfect for families who are seeking a nurturing, home-like dynamic for their child. The garden is well established with large trees and plenty of natural shade.
Jescott Montessori Pre-school provides high quality education and care. To achieve this, we employ qualified staff who can offer the expertise, experience and the educational pedagogy to nurture the important developmental stages of a child's early years. Jessica Matheson, our Director, leads a team of teachers who are passionate and committed educators. We understand how important it is for children to have primary care-givers who provide excellent role modelling through quality use of spoken language, gentle and consistent guidance, and most importantly, genuine warmth and respect. Jescott Montessori provides this nurturing environment and our children feel valued, respected and safe. We pride ourselves on having a stable, cohesive team of dedicated professionals. The friendship and respect our staff display for one another transfers to our children and families. Our children feel valued and safe. Long-term, trust based relationships are a feature of our Jescott community.
Location
6 Lorne Avenue, Magill SA 5072
School Hours
M-F: 8am – 4pm
Weekends: Closed
Jessica LangfordDirector
Jessica has been at Jescott most of her life –  she attended as a 2 year old in the inaugural class of 1989! She loved her early years at Jescott so much that she returned as an educator in her adulthood. Jessica has been our Director for nearly a decade and works tirelessly to ensure that Jescott embodies the family values that inspired its origins. 
Jessica was awarded the Australian Family Rising Star Award early in her career and we are so proud that she is part of our Jescott constellation!
"Words can not express the gratitude we have for these beautiful souls that have helped us bring up all 3 of the children. Having the trust to leave your children with others outside the family is not easy but Marvin and I have come to think of all these teachers as extensions to our family."
"I like to do activities with the beads… It feels good; you use your hands and you use your brain."
"I think Miss Aria summed up Montessori quite well for a 4 year old! Your passion and dedication to your craft can be seen by everyone who attends/spends time in your beautiful environment xxx"
"Jescott Montessori more than exceeds in our eyes….. We love it, still do, we miss you beautiful ladies everyday and every day that my children once attended was an amazingly new adventurous day where you all nurtured my children like your own. You are one in a million."
Get In Touch
Locations: 
Cedars Montessori - Unley
Chancery Lane Montessori - Adelaide CBD
Jescott Montessori - Magill
Lilliput Village Montessori - Maylands
Little Oxford Montessori - Unley 
Rosemont House Montessori - Norwood
Email: admin@samontessori.com.au